Just Get the Cow
Dru Rivers is the co-owner of Full Belly Farms located in the beautiful Capay Valley of northern California
Since she attended U.C. Davis and majored in agriculture, she has played her bigger game by feeding her compelling purpose of having no chemical farming. "We are committed to fostering sustainability on all levels, from fertility in our soil and care for the environment, to stable employment for our farm workers. We strive to be good stewards of this farm, so that this generation and future generations may continue to be nourished by the healthy and vibrant food that we produce."
A Bigger Game? You bet.
The love of produce came at a very early age for Dru. She vividly remembers picking corn and immediately running into the house and putting it in the pot to eat it right away. That is a vivid memory for her and growing good food has always been a big part of her life.
Part of The Bigger Game™ model that I describe in my book,
Gutsy Women Win
has Bold Action as a critical element to playing a bigger game.
When I asked Dru what was a really bold action for her, she told me the following story.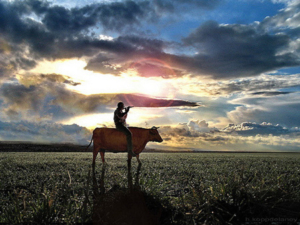 "I have a great little story that explains what bold action means to me. This is perfect for me. My husband and I have the same saying when we need to take bold actions. What we say is, 'We'll just get the cow.'
"A while back, I really wanted a milk cow, so that we could have fresh milk. I never had a cow and had no idea how to handle them, but I wanted fresh milk really bad. We just went out and bought a cow without knowing anything about them. We got the cow and then we figured it all out after that. We figured how to milk and what to do with the milk. But if we never got the cow, we would never know what it was like. We bought a cow and now, sixteen years later, we have five cows.
"I feel like this is our motto. You just have to do it and you just have to try something. So some of our bold actions were buying the land, a little bit of going against the grain of what our families thought. My mom was hoping that I would be a botanist, not a farmer, so going against a little bit of what everyone thought made sense for our life. Basically, it's all about taking the bull by the horns and saying, 'Ok, I will try this and we will see how it goes.' It has worked about 90 percent of the time.
"My advice to others who are thinking about making a big move, but feel as if they just don't know how, is 'Just get the cow.'"
This is my vision for you.
Just get the cow.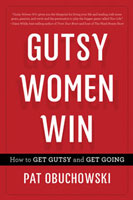 Get
Gutsy Women Win
here on Amazon.