Just Say "Yes"
"Service to others is the payment you make for your space space here on earth." ~Mohammed Ali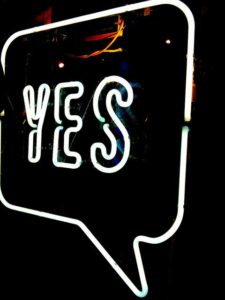 A while back, I received an email from a friend who was looking for a few good women to help her lead a leadership program at a girl's camp. I read the email and almost skipped right by it until I saw it was called "Camp Cinderella." Now, what girl, no matter what her age, would miss an opportunity to attend "Camp Cinderella?"
Not only that, but it was held at Pepperdine University, in Malibu, California. Now, what girl, no matter what her age, would miss an opportunity to visit Malibu, California?
I had been looking for a place where I could volunteer a few days and this opportunity brought me together with some of my brilliant colleagues, as well as an opportunity to help these girls, aged 15-18, discover the leader within themselves and help them believe they can lead others. The organization that brought the Catalyst Leadership Program to these young women is called the
HerShe Group
.
The HerShe Group empowers young women in foster care and those that have been recently emancipated (turned 18 and now out of the 'system') to make a successful transition from adolescence to adult independence and to realize their full potential by exposing them to extraordinary experiences through the arts, mentorship, discovery and training.
I don't often work with this age group, but I just felt at a gut level, this was the right thing for me to do at this time. I just said "Yes!" without knowing the program and exactly what I was getting myself into. I had the time available and wanted to volunteer.
And, I am so glad I did.
"The miracle is this - the more we share, the more we have." ~ Leonard Nimoy
It was an amazing week.
I learned so many things in a very new and sometimes uncomfortable environment. Here are my top learnings from working with these young women:
Young people need guidance and need to be caught and acknowledged for doing things right.
Young people want someone to listen to them and to ask them direct questions that help them open up and get clarity.
People need to believe there is hope.
Young people need to have time to just play and dream and giggle.
Young people need to be told they are loved for who they are and that they matter and are seen.
The above also applies to adults.
My most valuable lesson was to just say "Yes!" If I did not act on my gut feeling I would have missed out on loving and being loved by the amazing women in this program... the young girls and the other adults.
Having your heart broke open is a wonderful feeling.
Just say "Yes!" to getting your heart broken open, too.
"If you want to lift yourself up, lift up someone else." ~ Booker T. Washington