Five Tips to Trigger your Creativity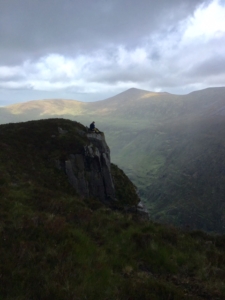 I just returned from two weeks hiking and touring in Southwestern Ireland. Some places I visited: Ring of Kerry, Skellig Michael, Cork, Dingle Peninsula, Connemara National Park and the Cliffs of Mohr just to name a few places.
As I traveled, I carried a journal and forced myself to stop along the way to capture any thoughts that I wanted to save as I hiked, walked, read, ate, drank, rode, danced, shopped, etc.
I found that this get-a-way was causing me to be very prolific in my ideas and in my writings. I found myself writing Haiku after Haiku. I am a thinker that is always looking for patterns, so I love writing Haiku. Haiku is a form of Japanese poetry that has 17 syllables in three lines of 5, 7, 5. I probably take some liberties on the exactness of Haiku, but I follow the rhythm of it.  Here is one I wrote while there.
A Haiku in Ireland June 4, 2017
There is magic here in this moist land called Ire. Reverence calls out.
Rituals called forth so we remember...connect. To that before us.
Connect to our hearts. That which graced our heritage. we will not forget.
And yet, we create. We create our rituals so we remember.
On the returning flights, I reflected on why was it that I was so prolific  there and how can I continue this?
Here are the five tips I came up with.
Get away from your everyday. This was for me the number 1 thing that I believed help me be so open to the new ideas that kept coming. It's like getting your best ideas in the shower…you are away from your normal day to day with no particular objective…except to get clean.
Let go of distractions. Yes, I mean turn off the TV, power down the laptop, shut off the phone, and say bye to social media for a bit. You'd be surprised at how few people miss you and how the world still goes on.
Put yourself in a different environment. For me, it was travelling to Ireland. For me now, it will simply be an early morning walk or a hike with a friend. Just get outdoors. Get to a different and new environment. Do the same walk, just in the opposite direction or at a different time of day…just get out!
Let yourself try something you've never done before but always wanted to do. Write a Haiku or a poem. Write it with your opposite hand. Write three pages a day in the a.m. without stopping. All of those will work; just start writing with a pen in hand and a piece of paper. Ask yourself a question and write. I asked a client one time to put her Leadership Principles into a Haiku. Here's what she wrote:
"I will lead with Grace
Humility, Mindfulness
Conscience as my guide."
Be a kid again and let go of that inner critic. It's your creativity, no one else's, so stop judging your ideas. Some of the greatest inventions began with someone saying, "That'll never work."
A Haiku for Your Soul
We write for our souls. We search words to fit our quest to create beauty.
And if they are read it does not matter to us. We write on our souls.
Go Forth. Be Creative.
What ideas do you have that help you be more creative?