SMARTER goals are smarter than SMART goals
I attended a writer's workshop a few weeks ago where
Nina Amir
, a nonfiction writers' and high performance coach talked about a concept of having SMARTER goals.
I am very familiar with SMART goals as I work with my clients on creating goals that use this mnemonic acronym. It stands for Specific, Measurable, Achievable, Relevant, and Time-bound. SMART goals operate well in an organization where project management and meeting deadlines are important.
On a more personal side, if our goals are meant to help us level up, then SMARTER goals makes more sense to me.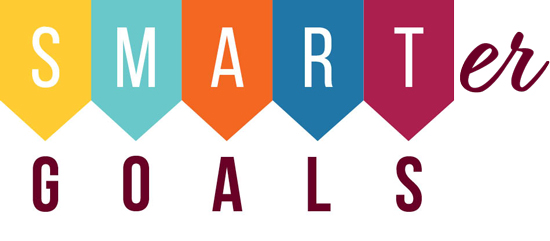 Here is how they are defined:
Sensational:
You want to be sure that your goals cause you excitement. If your goals impact others, you want to provoke interest and attraction. This excitement is motivation to keep going when it gets hard.
Moving:
  We know the highest performers usually have a really strong why and are motivated and keep their why in their sight. Be sure your goal answers the question "Why is this important to me and what will happen if I don't do 'x'?"  Be attached to your why.
Aspirational:
Your goals need to involve things you are striving toward. Have a big picture of where you are heading and be sure this goal is something you are striving toward.
Relevant:
 Your goal has to have meaning and connect and be in alignment with your values, operating principles, and how you live your life. It has to tie into the big picture of what you want to achieve.
Timeless: 
You need to have a plan of what direction you are heading and extend it into the future. Be future focused.
Elevating:
Your goals should help you level up. If you are not growing you are not elevating. Stretch goals are great, but continually check them to be sure they are elevating you and create them for success in achieving them versus creating goals too hard to reach..
Relatable:
Your goals also have to relate to those you want to impact: customers, family, community, and most importantly yourself.
I think that on a more personal level if we develop SMARTER goals first, our SMART goals will be better planned and will inspire us to achieve them.